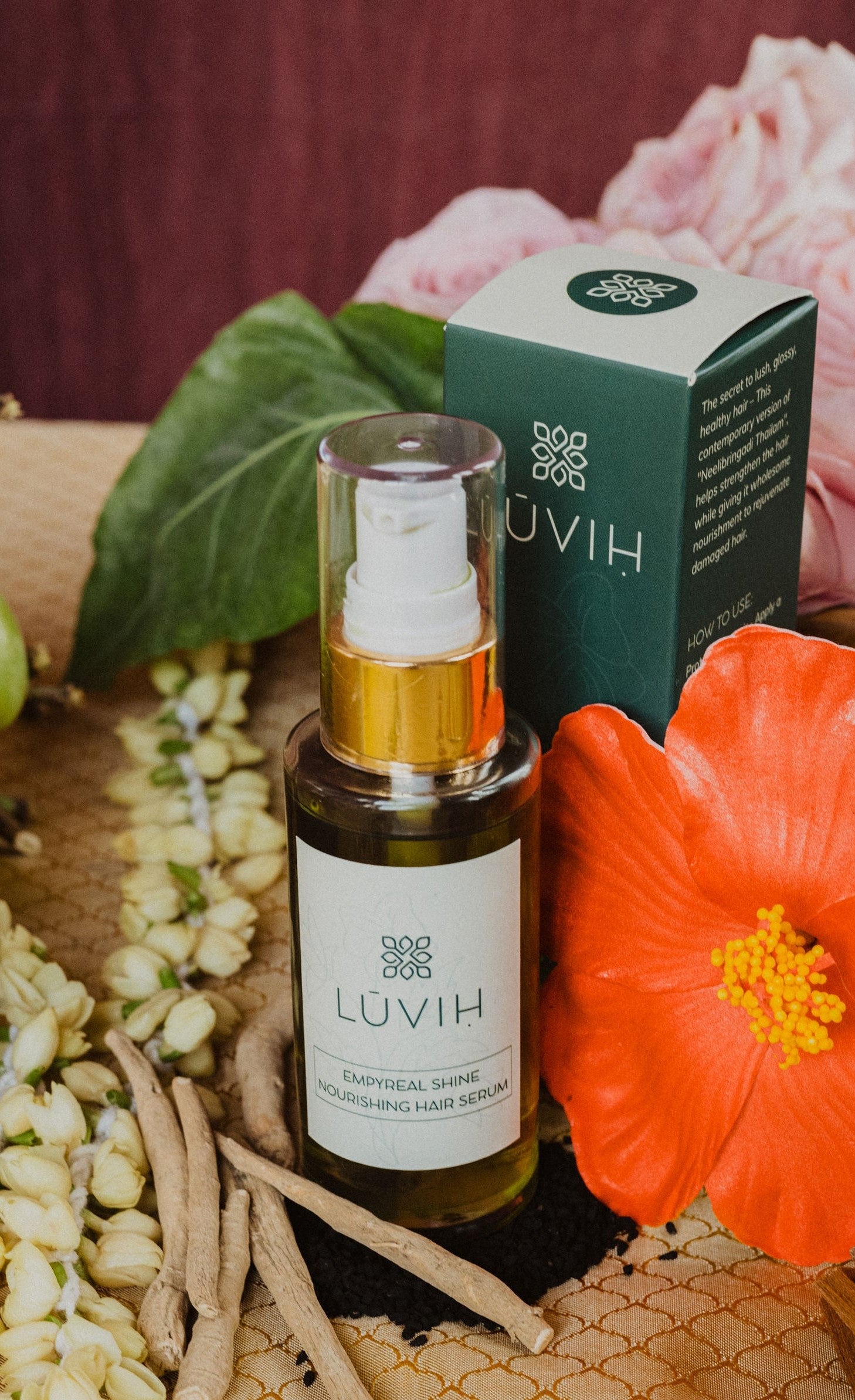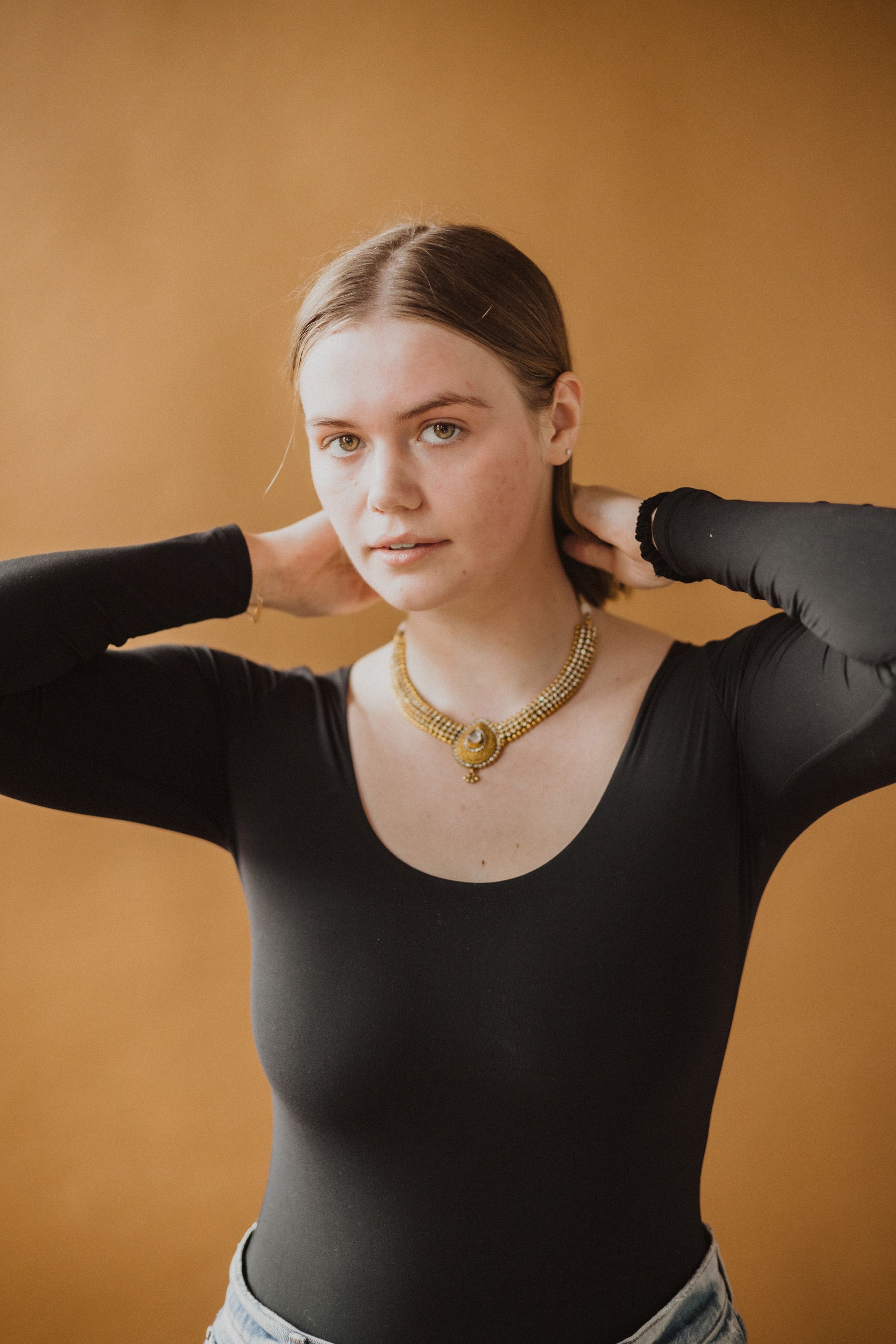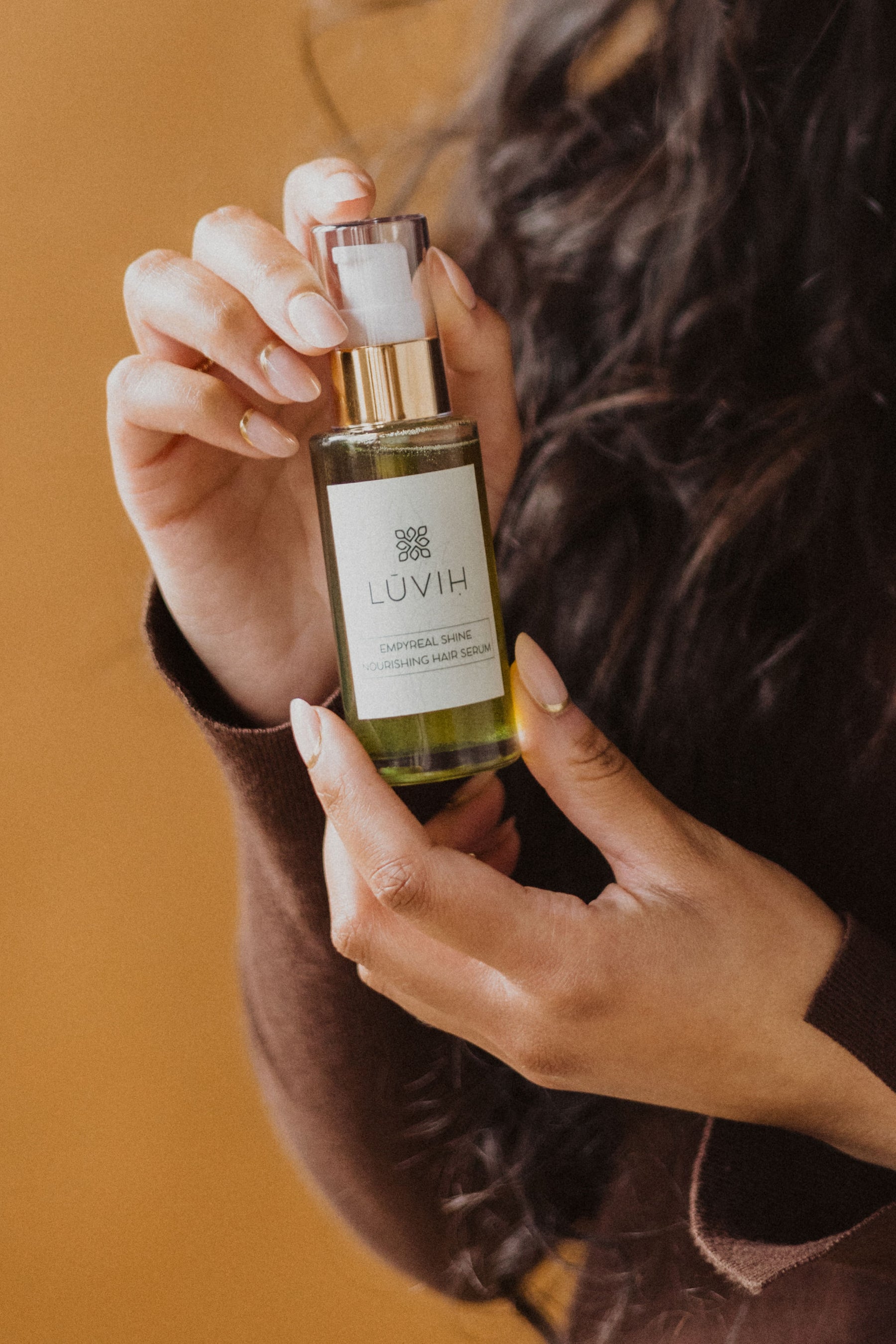 Empyreal Shine Nourishing Hair Serum
A modern culmination of 16 time-tested ayurvedic herbs and expertly curated botanical oils weightlessly smoothes your strands, helps defend against environmental/lifestyle stressors, and gives hair an intoxicating scent and luxurious shine.

50 ML | 1.7 Fl Oz

The secret to lush, glossy, healthy hair – This contemporary version of "Neelibringadi Thailam", helps strengthen the hair while giving it wholesome nourishment to rejuvenate damaged hair
Hailed as 'King of Herbs', Bhringaraj conditions the hair deeply, restores and nurtures damaged hair back to health.
Adaptogen herb Ashwagandha with it's stress-relieving properties, antioxidants and amino acids, strengthens hair follicles and helps minimize breakage.
Superfood Amla is rich in vitamins, minerals, amino acids, and phytonutrients help increase blood circulation throughout the scalp and stimulate hair growth. Essential fatty acids in Amla makes the hair softer, shinier and voluminous.
Black Seeds nourishes hair, increases its shine, and eliminates scalp dryness.
Hibiscus rejuvenates scalp and seals its natural moisture content.
Protect your hair - Apply a pump onto palms and smooth onto damp/dry hair before using heat styling tools like a blow dryer or curling iron to protect hair from heat damage.
Increase your shine - Apply a pump on dry hair from mid-lengths to ends to smooth flyaways and give hair a glossy, luscious shine.
Nourish - Apply 1-2 pumps to damp hair and let air dry for a weightless, glistening shine
Deeply nourish - Massage generous amount of oil into your scalp and from roots to ends for a nourishing and conditioning hair mask. Leave in for 2 hours or overnight. Wash and style as usual when ready.
Sesame (Sesamum indicum) Oil, Coconut (Cocos nucifera) Oil*, Sunflower (Helianthus annuus) Oil*, Olive (Olea europaea) Oil*, Castor (Ricinus communis) Oil*, Almond (Prunus dulcis) Oil*, Bhringraj (Eclipta Alba), Brahmi (Bacopa monnieri), Amla (Emblica officinalis), Hibiscus (Ricinus communis), Aloe Vera (Aloe Barbadensis), Curry leaves (Murraya koenigii), Indigo (Indigofera Tinctoria), Balloon Vine (Cardiospermum Helicacabum), Ashwagandha (Withania somnifera), Black cumin (Nigella Sativa), Manjistha (Rubia Cordifolia), Licorice Root (Glycyrrhiza Glabra), Sandalwood (Santalum Album), Sweet Indrajao (Wrightia Tinctoria), Rosary Pea (Abrus Precatorius), Neem (Azadirachta indica), Jasmine (Jasminum sambac) Essential Oil*, Rose (Rosa Damascena) Essential Oil, Rosemary (Salvia rosmarinus) essential oil, Ylang ylang (Cananga odorata) essential Oil*.
*Certified Organic
Proprietary Formula | Vegan | Cruelty- Free | Synthetic Fragrance Free I Palm Free