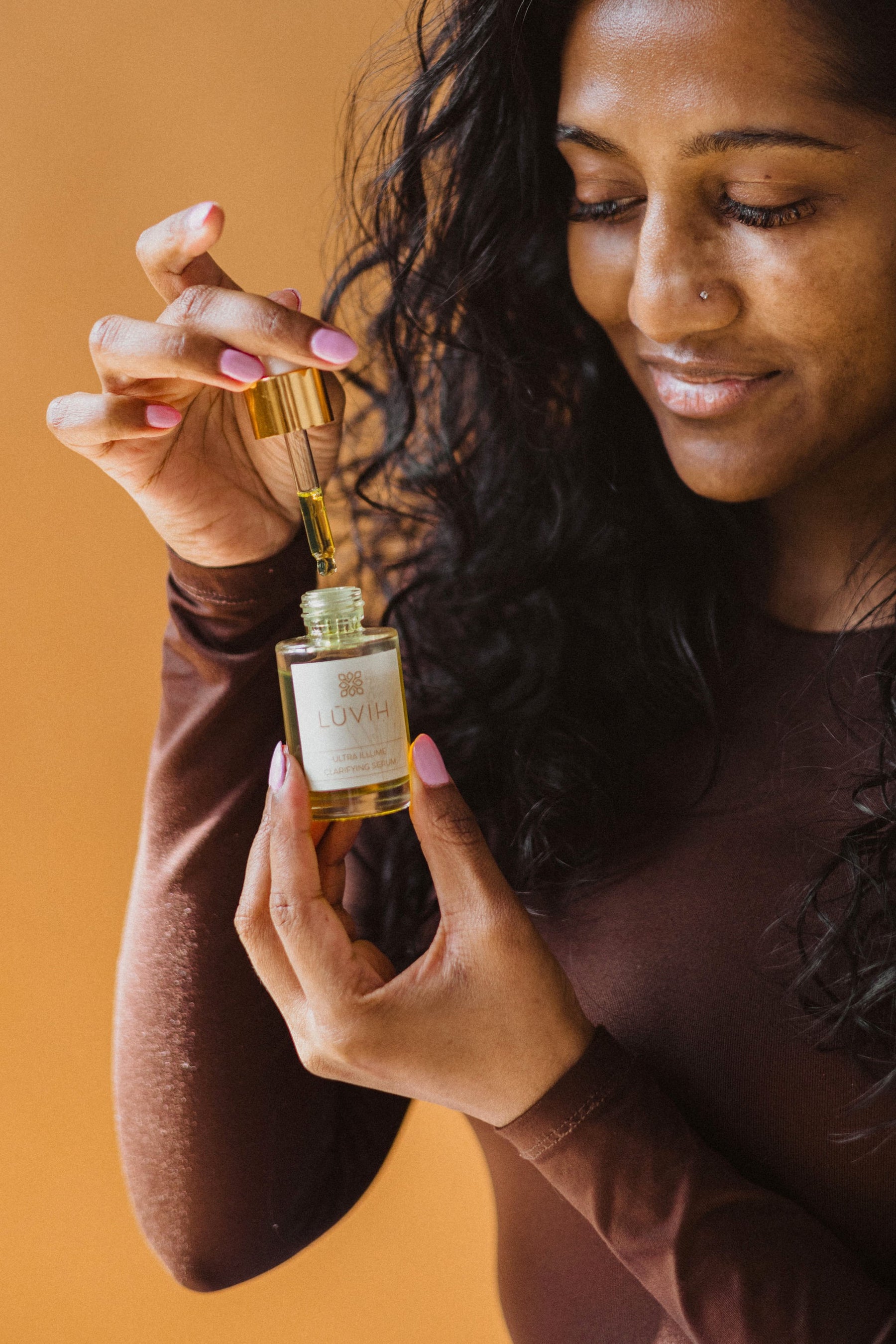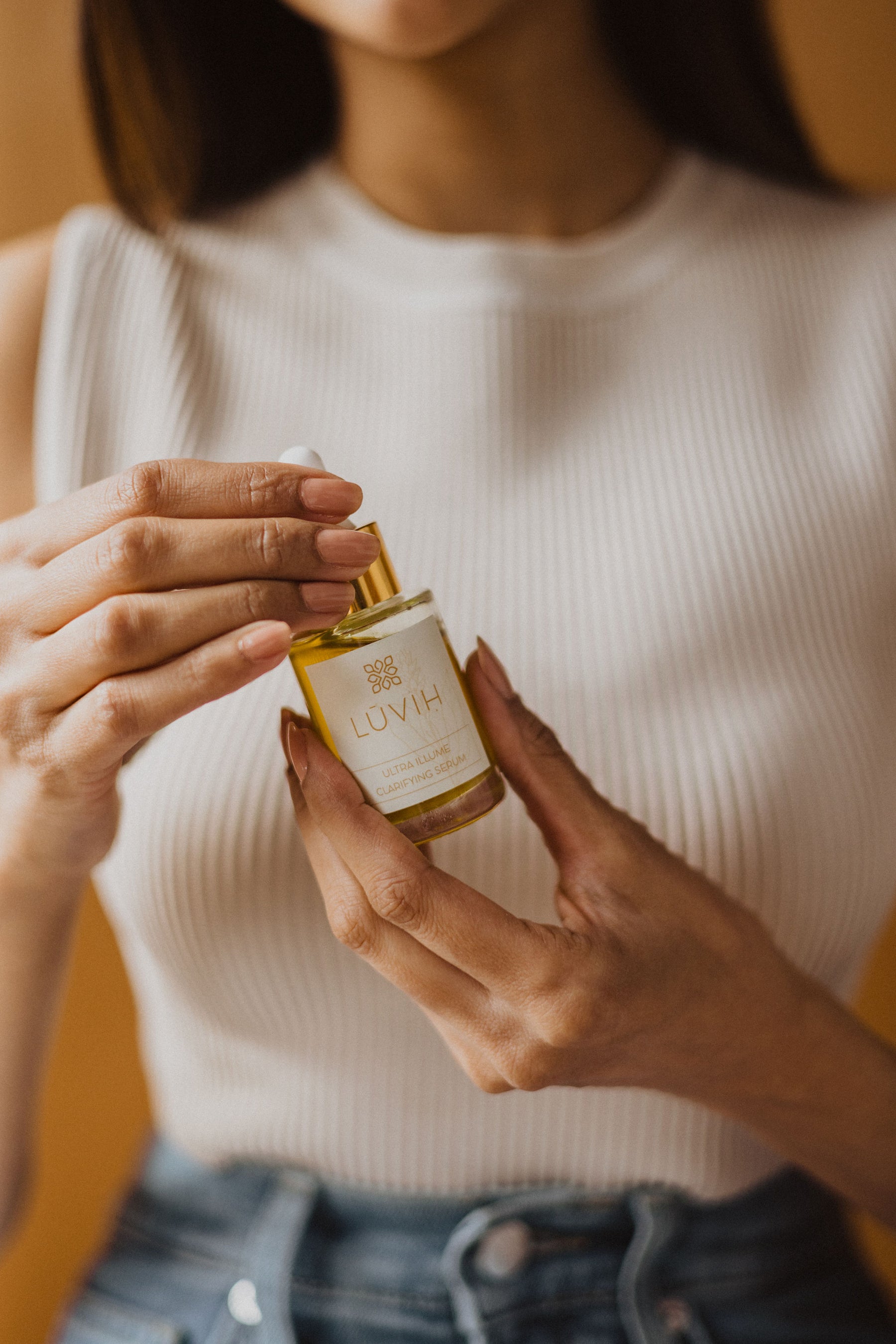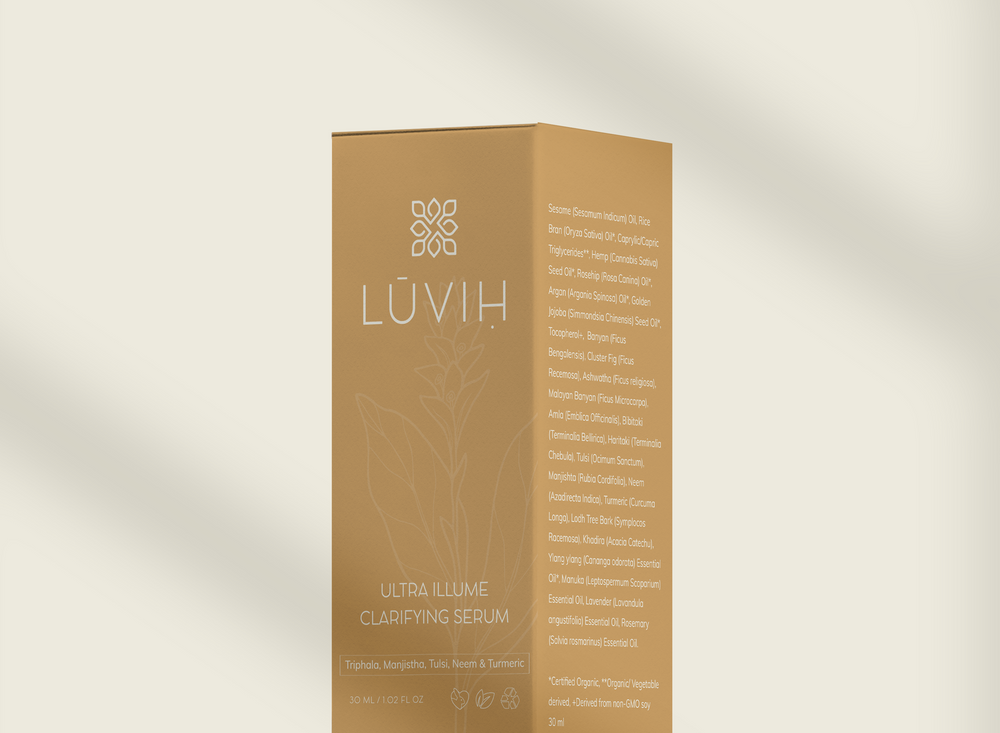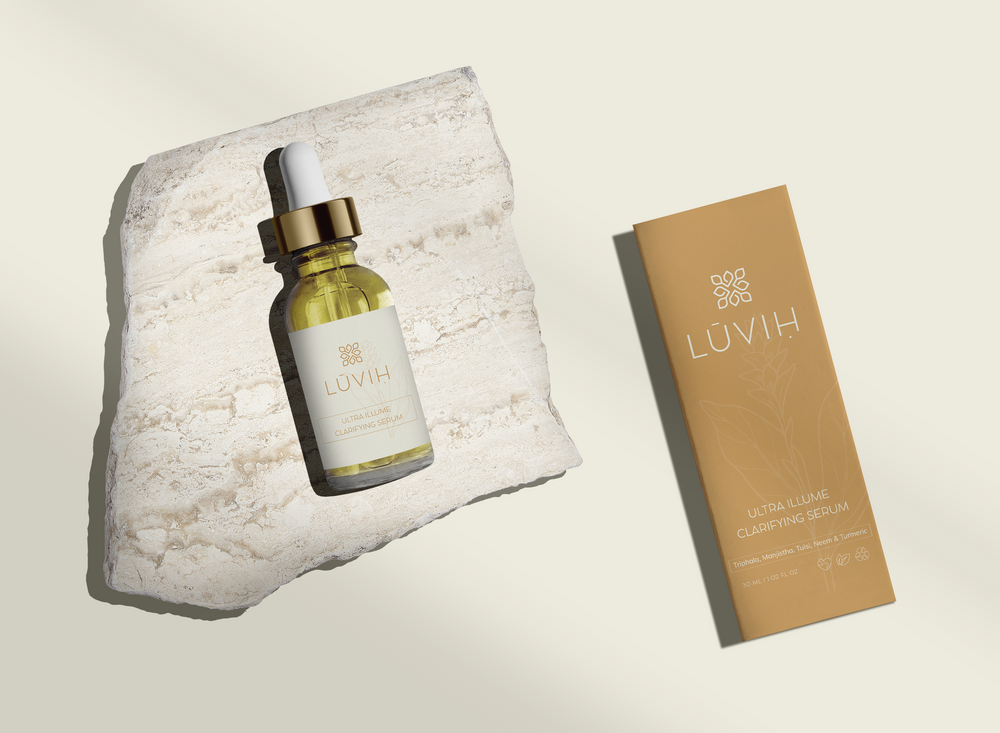 Ultra Illume Clarifying Serum
This supercharged serum rich in Vitamin C and antioxidants is formulated with time honored ayurvedic herbs Triphala (includes Amla), Tulsi, Manjistha, Neem and Turmeric to help protect the skin from adult acne and promote brightness.
The highly potent oil formula derived from centuries old 'Nalpamaradi Thailam' combines 4 Ficus trees with bioactive complex through Adaptogen technology to visibly help diminish the appearance of dark spots and blemishes in acne-prone oily skin, balance skin's natural oils and brightens overall skin tone.
30 ML
Triphala, a combination of 3 fruits includes Amla, Haritaki, Bibhitaki, has rich antioxidants and super-high vitamin C contents helps in reducing acne-causing bacteria, giving you soft and supple skin.
Referred as 'magic herb' in Ayurveda for its rejuvenating and detoxifying properties, Manjistha helps fight acne-causing bacteria and keep the skin healthy and flawless.
Holy Basil better known as 'Tulsi', helps calm redness, reduce the appearance of blemishes and improve overall skin tone and texture.
Neem with antibacterial properties helps combat against acne-causing bacteria whiteheads, blackheads and minimize magnified pores.
Turmeric reduces inflammation and help prevent future flare ups. Rich in antioxidants, it also helps in reducing pigmentation and brightening skin.
For best results, use 2-3 drops and massage onto cleansed face, neck, and décolleté while skin is still damp, or following Luminous Veil Hydrating Mist (sold separately). Use as part of your morning and evening skincare ritual. You can also use this serum as a primer or mix it with your foundation for a dewy finish.
Pro tip:
Apply two sprays of Luminous Veil Hydrating Mist onto your palm.
Add 1-3 drops of serum with the mist.
Massage on your face, neck and décolleté for a 'dual-effect' lighter serum.
Sesame (Sesamum Indicum) Oil, Rice Bran (Oryza Sativa) Oil*, Caprylic/Capric Triglycerides**, Hemp (Cannabis Sativa) Seed Oil*, Rosehip (Rosa Canina) Oil*, Argan (Argania Spinosa) Oil*, Golden Jojoba (Simmondsia Chinensis) Seed Oil*, Tocopherol+, Banyan (Ficus Bengalensis), Cluster Fig (Ficus Recemosa), Ashwatha (Ficus religiosa), Malayan Banyan (Ficus Microcarpa), Amla (Emblica Officinalis), Bibitaki (Terminalia Bellirica), Haritaki (Terminalia Chebula), Tulsi (Ocimum Sanctum), Manjishta (Rubia Cordifolia), Neem (Azadirecta Indica), Turmeric (Curcuma Longa), Lodh Tree Bark (Symplocos Racemosa), Khadira (Acacia Catechu), Ylang ylang (Cananga odorata) Essential Oil*, Manuka (Leptospermum Scoparium) Essential Oil, Bulgarian Lavender (Lavandula angustifolia) Essential Oil, Rosemary (Salvia rosmarinus) Essential Oil.
*Certified Organic, **Organic/ Vegetable derived, +Derived from non-GMO soy
Proprietary Formula | Cruelty Free I Palm Free I Synthetic Fragrance Free I Vegan